Engineering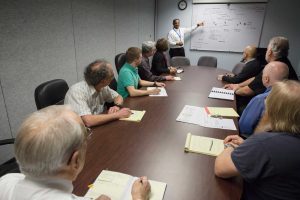 Engineering
Altek's team of electrical and process engineers is available to help customers succeed. Whether you need assistance with design for manufacturing, component engineering, PCB layout, programming, or design of test fixtures, we're here to help. We can work with you to develop your product specifications starting with space studies, outlines, or just a general concept.
We know that time is of the essence, and we will work with you to meet your deadlines. To facilitate the verification process for prototype pcbs, we can accommodate hand wiring, wire wrap or quick turn PCB fabrication.
Altek's software packages, Altium, CADSTAR and CAM350, allow us to import from many different versions of design software to accommodate your needs. For existing products, we can modify Gerber files if design files are not available providing the ultimate flexibility to support incremental changes to legacy designs.
Our staff of electrical engineers has decades of experience in the following areas:
PCB designs for military, medical and commercial applications
High speed, multi-layer digital PCB designs – bus routing, differential pairs, match lengths
Signal integrity issues to meet your digital design needs (tuned traces, differential pairs, etc.)
PCB layer management for signal integrity and impedance control
High density SMT designs (BGA, uBGA, PCI, PCIE, CPCI, etc.)
Rigid-flex PCB designs
Low level analog PCB designs for metering
Drill, panel and cutout drawings
Auto-routing for dense PCB designs
Creation of fabrication documents
Creation of complete assembly drawings
Here are some of the software packages we use at Altek for Engineering support:
Altium Designer – Schematic and PCB Design
CADSTAR – Schematic and PCB Design
SOLIDWORKS – 2D and 3D Mechanical Design
CAM350 – PCB Gerber Viewer/Editor
DraftSight – 2D Mechanical Design
We can produce your product and assist with product validation. We can also help you develop test equipment to ensure high quality and reliability.